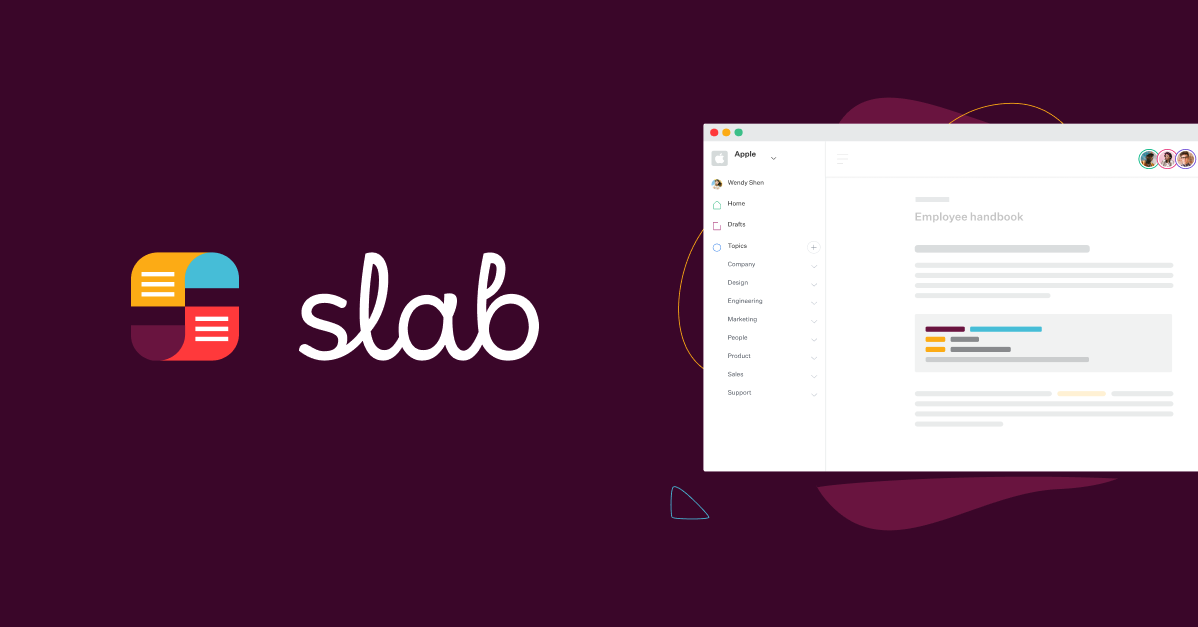 SLAB (20% off your first 3 months)
Here's the referral link: http://slab.com/r/z3mnbsdi

Use it!
I love Slab and we use it at my creative agency. It's super intuitive and does exactly what it needs to do and not all the other stuff. It's a wiki that doesn't feel like a wiki and the ability to make pages and sections public versus private is great for sharing docs or even multi-page guides with clients. It's also not expensive. If you are not documenting how your business works it will never scale. Use Slab!
More About the Slab
Slab is a knowledge management platform that is designed to help businesses streamline their operations, increase productivity, and enhance collaboration. It's the go-to platform for businesses that require a central repository to store all their information.
Here are 20 reasons why Slab is good for your businesses:
Easy Collaboration: Slab makes it easy for team members to collaborate on projects. It provides a platform for real-time editing and commenting on information.
Centralized Information: Slab pools all of your company's knowledge in one central place, which makes it easy for employees to access any knowledge they need.
Easy to Use: Slab's interface is simple and intuitive, which makes it easy for anyone to use it.
Great for Documentation: Slab is great for creating and managing documentation. It provides a platform to easily create, edit, and share documents.
Increased Productivity: Slab reduces time spent looking for information, which increases productivity and efficiency.
Better Decision Making: Slab provides employees with the knowledge they need to make informed decisions.
Improved Communication: Slab can improve communication between employees by making information readily accessible.
Automated Notifications: Slab offers automated notifications that keep employees updated when new information is added.
Customization: Slab can be customized to meet the unique needs of businesses.
Flexibility: Slab can be accessed on the web or mobile devices, making it accessible to employees wherever they are.
Effective Search: Slab provides a search engine that makes it easy for employees to find what they are looking for.
Role-Based Access: Slab can be configured to provide different levels of access based on the employee's role, which ensures that confidential information is protected.
Streamlined Onboarding: Slab can be used to create and manage onboarding materials for new employees, which reduces the time and hassle of bringing on new team members.
Easy Knowledge Transfer: Slab can be used to transfer knowledge from employees who are leaving the company to their replacements, which ensures that knowledge is not lost when an employee leaves.
Consistent Information: Slab ensures that all employees have access to the same information, which promotes consistency in decision-making.
Cross-Departmental Collaboration: Slab promotes cross-departmental collaboration by making information accessible to all company employees.
Performance Tracking: Slab can be used to track employee performance by recording the number of documents created, the number of searches performed, and the number of comments added.
Easy Integration: Slab can be easily integrated with other tools and services, which makes it a valuable addition to your business.
Security: Slab uses advanced security protocols to keep information safe and secure.
Cost-effective: Slab is an affordable solution to managing knowledge for businesses of all sizes.
In conclusion, Slab is a powerful knowledge management tool that can help businesses streamline their operations, boost productivity, and increase collaboration. By using Slab, businesses can access a central pool of information that can be easily customized, searched, and shared across all employees.